Exchanges with Düsseldorf
March, 2018
International Affairs Division
Telephone: 043-223-2398
Partnership with State Capital Düsseldorf
Landeshauptstadt Düsseldorf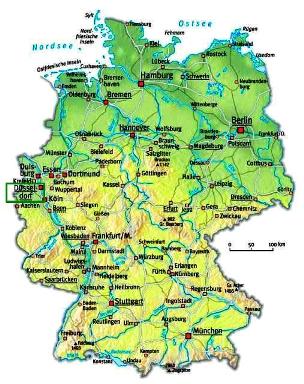 Chiba Prefecture and the City of Düsseldorf, Germany, have been engaged in exchanges in various forms, such as business, music, sports, and academic research, since 2005. A variety of organizations have participated in these exchanges, which include dispatching delegations back and forth.
With a population of 635,000 and a total area of 217km2, Düsseldorf is the capital of the Federal State of Nordrhein-Westfalen (NRW), which has the largest population and GDP among the 16 states in Germany.
As the crossroads of the Ruhr Industry Area, Düsseldorf has undergone much development since the latter half of the nineteenth century, and attracted investment from many foreign companies, including those from Japan, to the extent that it was called "the Office Desk of the Ruhr." It was in 1952 when a Japanese company first started its operations in Düsseldorf. Due to the active investment promotion effort on the part of the city government, more and more Japanese companies opened their offices in Düsseldorf. With the foundation of the Japan Club in 1964, the Japan Chamber of Commerce and Industry in 1966, and the opening of the Japanese School in 1973, basic infrastructure was developed for the Japanese living and working in Düsseldorf. Today, approximately 6,400 Japanese live in Düsseldorf, forming one of the largest Japanese communities in Europe.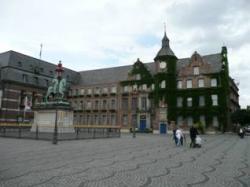 City Hall of Düsseldorf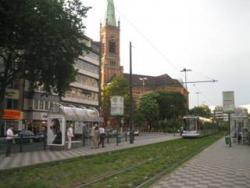 City Center
Website of Landeshauptstadt Düsseldorf (External link)
Dawn of Exchange
Back in 2004, the City of Düsseldorf didn't have a sister-city relationship with any municipalities in Japan and was looking for a partner among Japan's local authorities in preparation for "Japan Day" and "German Year(Deutschlandjahr)in Japan 2005/2006".
Then-Lord Mayor Joachim Erwin found high potential in Chiba Prefecture, which possesses an international airport and an international exhibition hall (Messe) like Düsseldorf. He desired to start an exchange and visited Chiba to meet with then-Governor Akiko Domoto of Chiba Prefecture in May 2004.
The Chiba Prefectural Government has been sending staff members to the JETRO-Düsseldorf Center since FY 1993 as part of a training program. This made it easy for the Chiba Government to obtain local information and communicate with related parties there.
Thanks to these circumstances, the exchange between Chiba Prefecture and the City of Düsseldorf deepened quickly and stepped into a new stage of partnership in 2005.
Exchange activities in the past
Exchange with Düesseldorf in 2017
Exchange with Düesseldorf in 2016
Exchange with Düesseldorf in 2015
Exchange with Düesseldorf in 2014
Exchange with Düesseldorf in 2013
Exchange with Düesseldorf in 2012
Exchange with Düesseldorf in 2011
Exchange with Düesseldorf in 2010(Japanese only)
Exchange with Düesseldorf in 2009(Japanese only)
Exchange with Düesseldorf in 2008(Japanese only)
Exchange with Düesseldorf in 2007(Japanese only)
Exchange with Düesseldorf in 2006(Japanese only)
Visit to Düesseldorf in 2006(Japanese only)
Exchange with Düesseldorf in 2005(Japanese only)