Chiba International Information Square - To foreign residents -
日本語|한국어|简体中文|繁體中文|Español|Português|Tagalog|ภาษาไทย
What's New
Chiba's Iodine Donated to Madagascar
The Chiba Prefectural Government, in corporation with the Japan Iodine Industries Association, UNICEF and other relief organizations, has helped countries struggling with iodine deficiency disorder such as Mongolia, Cambodia and Sri Lanka by taking advantage of its rich deposit of iodine. The latest iodine donation was sent to Madagascar.
The donation ceremony was held on Monday, October 29, 2018 at the Chiba Prefectural Government Office. 850 kg of potassium iodide will be distributed to households throughout Madagascar by the UNICEF local office and the Madagascar Government.
Iodine is an important mineral for the human body that contributes to healthy growth. But in some countries, people face health problems due to lack of iodine intake through their diet, including thyroid enlargement and childhood underdevelopment.
Japan is the world's second largest producer of iodine behind Chile, making up about 35 percent of the global iodine production, and about 80% of the country's iodine output (as well as over a quarter of the whole world production) comes from Chiba prefecture.
In Chiba Prefecture and the surrounding areas, a natural gas field stretches underground, which is a source of iodine-rich water that has remained trapped deep underneath the field for millions of years. The water contains high concentrations of iodine, almost 2000 times of that in typical sea water, and the reserves of iodine are estimated at about 500 times the current annual iodine production in Chiba.
Donation Ceremony
Date and time: October 29, 2018 (Mon) 4:30-5:00 P.M.
Location: Chiba Prefectural Government Offices 1st Floor Multipurpose Room
Participants:
Ms. Mirielle Rakotomalala (Ambassador of Madagascar to Japan)
Mr. Shinsuke Takigawa (Vice Governor of Chiba Prefecture)
Mr. Takashi Fujino (President and CEO, ISE Chemicals Corporation and Chairman of JIIA)
Mr. Yoshio Tachi (President and Representative Director, Godo Shigen Co., LTD. and Vice Chairman of JIIA)
Mr. Takeshi Mori (President, Kanto Natural Gas Development Co., LTD./ and Chairman of Keiyo Natural Gas Association)
Dr. Minoru Irie (Honorary Advisor, the Foundation for Growth Science, and the Iodine Global Network)
Support Overview
1)Role Distribution
The Foundation for Growth Science (Selection of donation recipient country)
Japan Iodine Industries Association (Providing of Iodine)
Keiyo Natural Gas Council (Shipping cost support)
Chiba Prefectural Government (Public Relations)
2)Distributed Items
Potassium Iodate (KIO3) 850kg
3)Recipient
The Government of the Republic of Madagascar (distributed to local salt manufacturers through the local UNICEF office)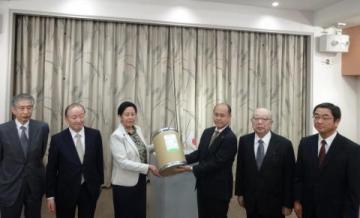 Donation Ceremony
Lifestyle information for foreign residents is listed on this page.
Disaster Prevention Information
Be Careful of Heat Illness
Radiation and Radioactivity Information