Chiba New Town
Purposes
To create a total city with complexes that include residences,office buildings,educational facilities,and relaxation/recreation centers.
To provide comfortable and well-planned housing land corresponding to needs for them in the Tokyo Metropolitan area.
To develop the core city of the Hokuso District (north area in the Chiba Prefecture).
Locations
Funabashi City, Inzai City, Shiroi City in Chiba Prefecture.
It is located 25 to 45 kilometer east-northeast of the Tokyo Metropolis,20 kilometer north of Chiba City.
The development stretches 2 to 3 kilometer south to north and 18 kilometer east to west.
The area is divided into 6 blocks.
Planned area
Approximately 1,930 hectare.
Expected population and planned housing units
Approximately 143,300 people (About 45,600 housing units).
Project method
New Residential Town Development Project.
Developers
Chiba Prefecture and the Urban Renaissance Agency.
Construction period
From May 1969 to March 2014.
Traffics
Railway: Chiba New Town is connected to the heart of Tokyo and to Narita Airport by Narita Sky Access.
Road: along Route 464 via Route 16.
Joban Expressway: approximately 20 kilometer from Kashiwa Inter Change.
Higashi-Kanto Expressway: approximately 15 kilometer from Chiba Kita Inter Change.
Link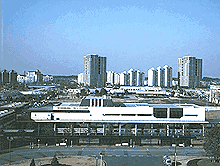 Chiba New Town Central Station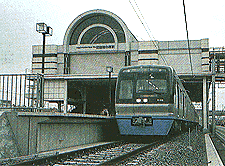 Inzai Makinohara Station