Update: September 14, 2022
Chiba Nanohana News (September 2022)
Index
I. Festivals and Events
1) Chiba Sake Fest 2022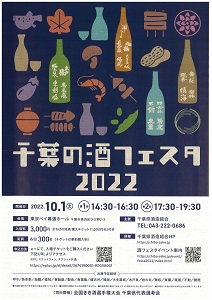 The Chiba Sake Fest is an annual sake tasting event where breweries gather from all over Chiba Prefecture with over 100 varieties of local sake available to try. The 2022 Fest will be held on October 1st in Chiba City! Tickets on sale now!
This event will be held for the first time in 6 years as a thank-you to those who continued to support local Chiba sake sales during the COVID-19 pandemic!
17 breweries are going to be present this year. There will be a "brewer's booth," where you can talk directly with brewers while sampling sake, as well as a "paid tasting corner," where you can try limited-edition products.
In spite of Chiba Prefecture's mild climate, it has a thriving culture of fermented foods, including sake, soy sauce, miso, and mirin (a rice wine used in cooking).
We hope you will enjoy Chiba's unique sake, resulting from a culmination of the brewers' craft, to your heart's content. Foreigners who love sake are also more than welcome to attend!
The National Sake Tasting Championship's Chiba Prefecture Representative Selection Competition will also be held on the same day.
Chiba Sake Fest 2022
Date: Saturday, October 1st, 2022

Place: Tokyo Bay Makuhari Hall / 2-3 Hibino, Mihama-ku, Chiba City (10-minute walk from JR Kaihin-Makuhari Station)

Time: Session 1 2:30-4:30 pm (Doors open at 2:00 pm)
Session 2 5:30-7:30 pm (Doors open at 5:00 pm)

Eligibility: 20 years and older ※Driving vehicles is not permitted.

Capacity: 300 people per session

Admission: 3000 yen for an advance admission ticket (available online via e-Plus)
※Please note that there will be no same-day ticket sales.

Special offer: bonus "Chiba Sake" 1000 yen purchase ticket

How to apply: buy an admission ticket on the e-Plus ticket website (sales begin August 5th)
Chiba Sake Fest 2022 Ticket Information – e-Plus
Application for the National Sake Tasting Championship's Chiba Prefecture Representative Selection Competition
※The event may be cancelled depending on the spread of COVID-19.

Organizer: Chiba Sake Brewers AssociationTEL: 043-222-0686

Chiba Sake Fest 2022 Website