Update: November 29, 2022
Chiba Nanohana News (November 2022)
Index
I. Festivals and Events
1)Must-See Chiba Winter Illumination Spots 2022-2023
1.The 32nd City Center Illumination "Le Mirage Chiba 2022/2023" / "YORUMACHI" 〔Chiba City〕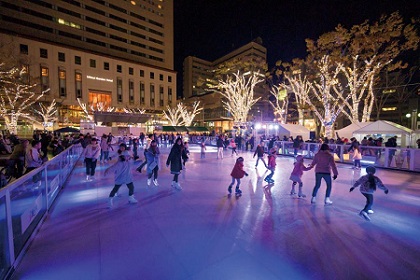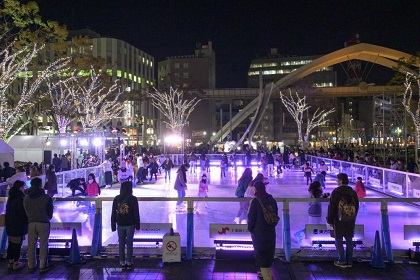 Chiba City Center Illumination "Le Mirage Chiba 2022/2023" is a winter illumination event that's being held at the Central Park Promenade (Ekimae-odori) and Chiba City Central Park. Also, for the first time in 3 years, an event which can be enjoyed along with the lights called "YORUMACHI" is open to the public. Please enjoy to the combination of the skating rink and winter lights at Central Park!
<Main Event (YORUMACHI) / Illuminated Skating Rink (synthetic ice)>
At a size of 400 square meters, one of the largest synthetic ice skating rinks in the country is opening for the season right in Chiba City Central Park! The skating rink is made of the world's highest quality synthetic ice that's also used by professional athletes, so beginners can rest assured that even if they fall, they won't get wet or cold.
Enjoy the thrill of skating on a rink while surrounded by the glow of the lights and a sense of free-spiritedness you can't experience in everyday life!
Admission: Adults(high school and above) 1,500 yen, Children(junior high and below)900 yen
※Price includes entry and skate rental. ※Wearing gloves is required. ※No time limit. You cannot withdraw mid-way.
Duration: Saturday, November 26th to Sunday, March 12th
Time: weekdays 1:00-9:00 pm (last entry 8:00 pm), weekends and national holidays 11:00 am-9:00 pm(last entry 8:00)
[New Year's Holiday Closures]Saturday, December 31st, 2022 to Sunday, January 1st, 2023
Location:Chiba City Central Park
<Chiba City Center Illumination "Le Mirage Chiba 2022/2023"
Duration: Saturday, November 26th to Sunday, March 12th (107 days total)
Light-Up Hours: 5:00-10:00 pm
Location: Central Park Promenade, Central Park, Torimachi Park/1-12 Chuo, Chuo-ku, Chiba City
Admission: Free
Transportation:【Train】 10-minute walk from JR Chiba Station
2.【Kaihin-Makuhari Station】Makuhari-Illumi 22/23 〔Chiba City〕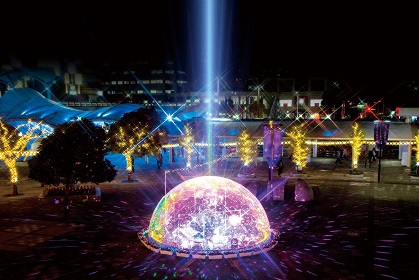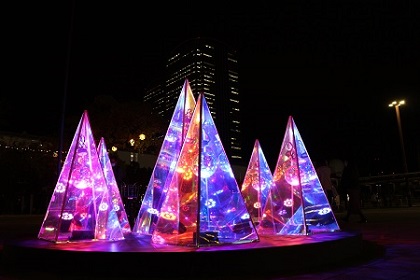 Makuhari New City is continually taking on new challenges in the pursuit of a brilliant tomorrow. This year, the city's goals are expressed in its winter illumination display through the concept of "Delivering a Light of Hope/Challenge for a Bright Future." The area is adorned with colorful lights, such as laser light visuals, shining ornaments decorated with children's wishes, and the "Lights of Hope," large art objects that play music and shine brightly into the night sky. There will also be a Christmas market, a winter tradition in Chiba's sister city Montreux, Switzerland, from December 16th to 18th at the station's south exit plaza. You can enjoy gourmet foods such as raclette cheese, shop for Swiss-designed items, and see alphorn and jazz concerts, all offering a heartwarming Christmas experience that is unique to Switzerland.
3.Mother Farm Illumination 2022-2023 Flower Garden of Light 〔Futtsu City〕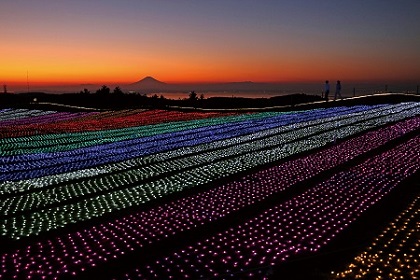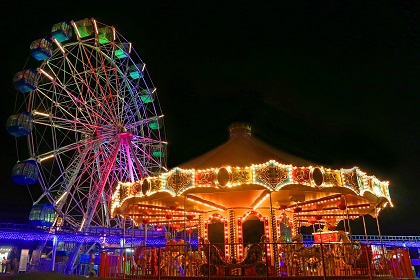 Mother Farm is hosting a winter illumination display. Located 300 meters above sea level, the "Yama-no-Ue Area" is the perfect location to view Tokyo Bay. The evening silhouette of Mt. Fuji emerging from the landscape and the heartwarming glow of the "Flower Garden of Light" paired with the nighttime skyline of Tokyo and Yokohama make for a beautiful scene. In addition, visitors can enjoy a view from as high as 330 meters at the glittering "Night Amusement Park," which has a Ferris wheel and merry-go-round at the highest elevation in Chiba Prefecture, and eat warm, farm-fresh food. Come and have your fill of Mother Farm's winter lights that will warm and refresh your body and soul.
Duration: Weekends and holidays from Thursday, November 3rd (holiday) to Sunday, March 5th; daily from Wednesday, December 28th to Wednesday, January 4th

Closed: December 14th (Wednesday), 15th (Thursday), 20th to 22nd (Tuesday-Thursday); January 10th to 13th (Tuesday-Friday), 16th to 19th (Monday-Thursday)

Light-Up Hours: 4:00-7:30 pm
※Light-up hours are subject to change due to sunset time and weather.
※The farm will open as scheduled during the day.

Location: Mother Farm, Yama-no-Ue Area/940-3 Tagura, Futtsu City

Admission: After 4:00 pm - Adults (junior high and above) 800 yen, Children (age 4 to elementary) 400 yen, Age 3 and below free. Before 4 pm - Adults (junior high and above) 1,500 yen, Children (age 4 to elementary) 800 yen
Parking: Free after 4:00 pm(1,000 yen for the day before 4:00 pm)
Transportation:【Train】35 minutes by direct bus from JR Kimitsu Station on the Uchibo Line
【Car】About 8 kilometers from the Kimitsu PA Smart Interchange (cars using ETC only) or 14 kilometers from the Kimitsu Interchange, both on the Tateyama Expressway
Mother Farm Website
4.Tokyo German Village Winter Illumination
FUN~Good Luck Comes to Shining Smiles~ 〔Sodegaura City〕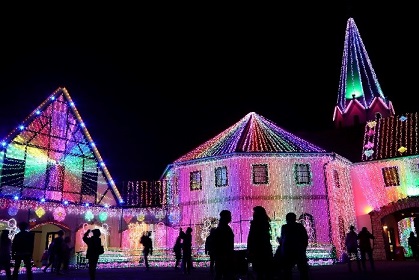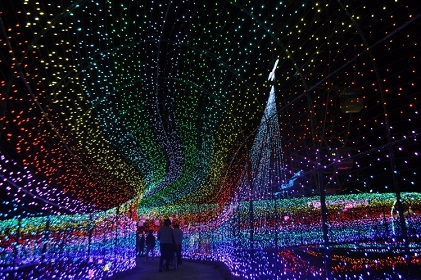 Can you imagine three million twinkling lights illuminating a vast area of 50,000 square meters? On winter nights, a new world that's entirely different from the atmosphere of the daytime opens up at Tokyo German Village. Starting from the original rainbow tunnel that stretches 70 meters long, you can then enjoy the "Light and Sound Show" featuring lights that change in time with the music and the "Landscape Motifs" which cover the wide, grassy clearing. The "Jurassic German Ride" lets guests tour the habitat of dinosaurs in an electric cart, and "China Lanterns" showcases the Chinese traditional craft of its namesake. It's said that the origins of winter illuminations come from Germany, so please come and enjoy the "world illumination" spectacle from the Germany that's located right here in Chiba.
Duration: Friday, October 28th to Sunday, March 19th

Light-Up Hours sunset to 8:00 pm(last entry 7:30 pm)

Location: Tokyo German Village/419 Nagayoshi, Sodegaura City
Admission: 3000 yen per passenger car
※For December, 3500 yen per car or 500 yen per walk-in
Transportation:【Train】Take a transit bus from Sodegaura Station on the JR Uchibo Line
【Car】3 kilometers from Anesaki Sodegaura Interchange on the Tateyama Expressway or 6 kilometers from Kisarazu Interchange on the Ken-O Expressway
Tokyo German Village Website
2)CHI-BA+KUN's Birthday Party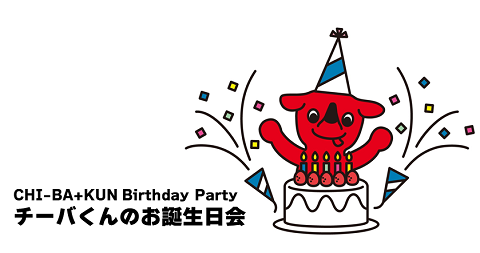 CHI-BA+KUN, the beloved mascot who works hard daily to promote Chiba Prefecture, will be having his 16th birthday on January 11th, 2023!
To celebrate, we'll be throwing "CHI-BA+KUN's Birthday Party" on Sunday, January 8th, at the Chiba Prefecture Education Center! You can attend the event in person by registering in advance (deadline: Friday, November 18th). There are also plans to livestream the party on YouTube.
Funassyi (Funabashi City), Kumamon (Kumamoto Prefecture), Gunma-chan (Gunma Prefecture), and other mascot friends of CHI-BA+KUN's will gather at the venue from all over.
The event will include a promotion time for each of the participating mascot characters and a dance-off, so this birthday party is sure to be enjoyable for people of all ages. Please join us to celebrate!
<CHI-BA+KUN's Profile>
A mysterious animal who lives in Chiba Prefecture. He is brimming with curiosity and loves to try new things. When he faces the unknown, his courage and enthusiasm build within his heart, which makes his body glow red. He also has a mischievous side along with a hearty appetite. His side profile is the shape of the map of Chiba Prefecture.
Date and Time: Sunday, January 8th, 2023, 3:00-4:15 pm

Location:Chiba Prefecture Education Center Main Hall(4-13-10 Chuo-ku, Chiba City, Chiba Prefecture)
※Admission is free, but advance registration is required
How to sign up: Please register via the special event page on Chiba Prefecture's "CHI-BA+KUN no Hiroba" website.
(Registration Period:Tuesday, November 1st to 5:00 pm on Friday, November 18th, 2022)
If the number of people who register exceeds the maximum capacity of 420, attendees will be selected by lottery.
Livestream: The event will be streamed live on the "CHI-BA+KUN Channel" YouTube Channel.
※Livestream viewing is free, and no advance registration is required
Contact for inquiries: Policy and Planning Department Regional Revitalization Division TEL: 043-223-2242
3)Autumn Leaves in Chiba
As we fall further into fall, the autumn leaves begin to flourish with radiant color. Enjoy an enriching trip to the Boso Peninsula with the changing fall hues.
Visit the classic Yoro Valley, or find hidden gems tucked deep away within the prefecture. Discover new sides of Chiba you haven't seen before!
Izumi Nature Park Momiji Festival (Chiba City)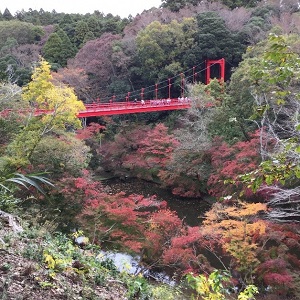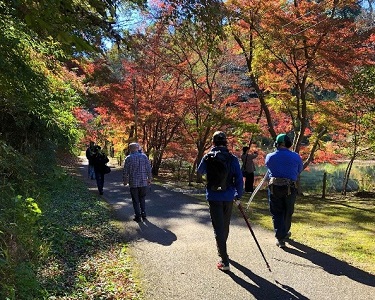 Izumi Nature Park is a scenic, 43-hectare park located approximately 11 kilometers southeast of the center of Chiba City.
The rolling hills of the Hokuso Plateau create a wide range of scenery within the park that can be appreciated in each season. Visitors can witness the ever-changing fall colors during this time of year in areas such as Maple Valley (Momiji-tani) and the Autumn Leaves Garden (Koyo-en).
The Momiji (Autumn Leaves) Festival will be held from Saturday, November 5th, to Sunday, December 4th this year. There will be food trucks set up and a variety of scheduled events, so please come and enjoy!
<Event Overview>
Photo Contest  Park staff are searching for a photo that best captures the essence of autumn in Izumi Nature Park during the festival. Please submit your photo via email, Instagram, or Facebook. The prize is a pair of tickets to Forest Adventure Chiba.
Nordic Walk(Admission Fee Required)  Participants will walk around the park to enjoy the beautiful autumn leaves while using walking poles for a full-body workout. Sunday, November 20th and Wednesday, November 23rd (national holiday), 10:00-11:30 am
Momiji Meguri Walking(Admission Fee Required) You can observe as many as 15 kinds of momiji, Japanese maple trees, within Izumi Nature Park. Take in the views of the trees while listening to a guide talk about them (Japanese only). Saturday, November 19th, 1:30-3:30 pm
Make an illustrated book with nuts and leaves!(Admission Fee Required) Parents and children welcome! Sunday, November 20th, 10:00 am-2:00 pm
Craft Class(Admission Fee Required)  Create your own artwork with a wooden board and nuts from the park. Sunday, November 27th, 10:00 am-2:00 pm
Peak Period:Mid-November to early December

Location:108 Norocho, Wakaba-ku, Chiba City
Transportation: Take the bus bound for either Naruto Station or Nakano Soshajo from Bus Stop 10 at the JR Chiba Station East Exit Bus Terminal, then get off at the Izumi Koen Iriguchi Bus Stop and walk 10 minutes

Izumi Nature Park Website
Naritasan Park Colored Leaves Festival (Narita City)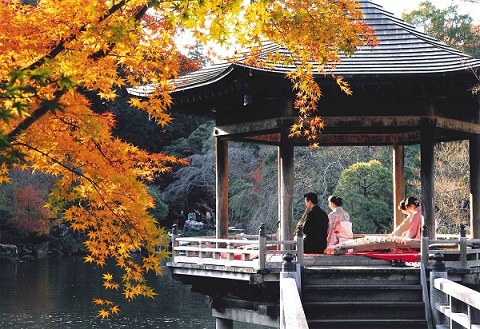 Naritasan Park is a large park that stretches out for 165,000 square meters behind the main hall of Naritasan Shinshoji Temple. The Colored Leaves Festival will be held on weekends and national holidays from Saturday, November 12th to Sunday, November 27th.
When the cool breeze of autumn begins to blow, the park transforms into a traditional Japanese garden straight out of a nishiki-e woodblock print. There are about 250 old oak, Japanese maple, and ginko trees which turn into brilliant shades of red and yellow every year from mid-November to early December. These colors are reflected on the surface of the pond within the park, creating an elegant ambiance that delights many guests. There will also be koto, shakuhachi, and erhu (Chinese violin) performances held during the festival.
Peak Period:Mid-November to early December

Location: Naritasan Shinshoji Temple Naritasan Park / 1 Narita, Narita City

Transportation: Take the train via the JR Narita Line to Narita Station or the Keisei Line to Keisei Narita Station and walk 20 minutes

Narita City Tourism Association Website
Yoro Valley (Ichihara City, Otaki Town)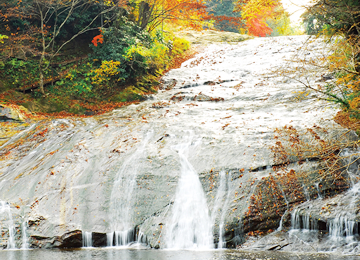 Located in the heart of the Boso Peninsula, this is one of Chiba Prefecture's most famous places to view autumn foliage. Visitors can enjoy a collage of fall scenery created by the numerous kinds of trees.
Don't miss the views of Awamata Falls located upstream on the Yoro River or the combination of bright leaves and rugged 30 to 50-meter cliffs of Umegase Valley!
The summit of Mt. Daifuku, a famous hiking spot in Ichihara City, has a majestic, sprawling view painted with the colors of autumn. The scene will also be lit up at night for a captivating sight.
Tsutsumori Momiji Valley, while difficult to reach for first-time visitors, is said to be akin to sacred ground for viewing the colors of fall. Why don't you see for yourself the beautiful autumn leaves hidden away in this valley deep in the mountains, known only to locals?