Update: December 26, 2022
Chiba Nanohana News (December 2022)
Index
I. News II. Festivals and Events
I. News
Join CHI-BA+KUN Global Partners!
We are currently looking for foreign residents to become members of "CHI-BA+KUN Global Partners*," those who wish to partner up with Chiba Prefecture to present their globally-minded opinions about prefectural policies and disseminate information about Chiba.
The Chiba Prefectural Government is promoting the creation of a society of multicultural coexistence in which all prefectural residents of different nationalities, languages, cultures, and customs can live and work in peace and have active roles in the community.
For those interested in this opportunity to involve themselves in prefectural government affairs, we await your application.
*The name "CHI-BA+KUN Partner" was changed to more clearly represent that foreign residents are committed to these activities.
【Activity Details】
At the request of the prefecture, members will participate and cooperate in the following activities:
Opinion exchange meetings as well as questionnaires, surveys, etc.
Cooperation in the dissemination of information provided by Chiba Prefecture
Attend events and "monitor tours" held by the prefecture and promote Chiba's appeal
Contribute ideas to help make the prefecture a more comfortable place to live for foreign residents
※There is no compensation for participating in these activities. However, the prefecture will provide transportation expenses.
【Application Guidelines】
(1) Term of Appointment: April 1st, 2023 - March 31st, 2024
(2) Number of Accepted Applicants: about 20
(3) Application Conditions:
Meet all requirements listed below:
Legal status of residence in Japan for those without Japanese citizenship, or roots in a foreign country for those with Japanese citizenship

Living, attending school, or working in Chiba Prefecture

Ability to communicate in Japanese

An active SNS (Social Networking Site) account (Facebook, Instagram, a blog, etc.)

Interest in Chiba Prefecture and in creating ways to make it a more comfortable place to live for foreign residents
(4) How to Apply
Fill out the application form (Form No. 1) in Japanese and submit it together with the following documents:
A photocopy of your residence card

A photocopy of your SNS account (screenshot of blog, Instagram feed, etc.)
※You can download the application form at the CHI-BA+KUN Global Partners website.
(5) Deadline
Your application must arrive by 5 pm on Friday, February 3rd, 2023 (via mail or email)
(6) Application Submission/Contact
Chiba Prefectural Government, International Affairs Division, Multicultural Coexistence Promotion Section
1-1, Ichiba-cho, Chuo-ku, Chiba City 260-8667 (9th floor of the Chiba Prefectural Government Office Main Building)
Phone: 043-223-2436
Fax: 043-224-2631
E-mail: kokusaig3@mz.pref.chiba.lg.jp
II. Festivals and Events
1)Recommended Spots in Chiba to See the First Sunrise of the New Year and Make a New Year's Shrine Visit
"Oshogatsu," the first day of the New Year, is the most important holiday in Japan. Japanese people adorn their homes with special decorations such as "kadomatsu," ornamental items made with bamboo and pine branches, and "shimekazari," sacred wreaths made of straw rope. Family members and relatives get together and eat traditional Japanese dishes such as "osechi" and "zoni" to celebrate the New Year.
Many people take part in "hatsumode," or the first visit of the year to a shrine or temple, to make wishes for the New Year. Some people also go out before dawn to see the first sunrise of the year from mountaintops, beaches, or high-rise buildings.
1.Recommended Spots for Hatsuhinode (First Sunrise of the New Year)
One highlight of New Year's festivities in Japan is seeing the first sunrise of the New Year, known as "hatsuhinode." Chiba Prefecture has some of the best places in the country to see the sunrise. Get your 2023 off to a great start at one of these spots!
Inubosaki (Choshi City)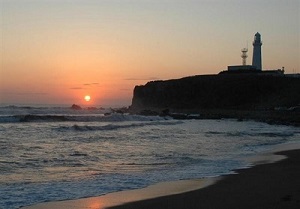 Inubosaki boasts the earliest sunrise (6:46 am) in all of Japan, excluding mountain summits and outlying islands.
Location: Inubosaki, Choshi City
Access: 【Train】10-minute walk from Choshi Electric Railway Inubo Station
Inquiries: Choshi City Tourism Association TEL: 0479-22-1544
Maebara-Yokosuka Beach (Kamogawa City)
Enjoy the first sunrise of the year along this beautiful coastline that was chosen as one of "Japan's Top 100 Beaches." The grand waves, typical for the outer coastline of Chiba, are popular with surfers for their first surf of the year. Maebara Promenade is perfect for a New Year's Day walk with its tropical ambience created by the palm trees lining the beach.
Location: Maebara, Kamogawa City
Access:【Train】5-minute walk from Awa-Kamogawa Station on the JR Sotobo Line
Inquiries: Kamogawa City Commerce and Tourism Division TEL: 04-7093-7837
South Chikura Beach (Minamiboso City)
This beautiful beach is a popular spot for surfers with its white sand and clear waters. A large Goma Fire Ritual is held together with the sunrise on New Year's Day, attracting many locals and tourists every year. Goma Fire Rituals are Buddhist ceremonies in which "goma-taki," wooden plates with prayers written on them, are burned for purification.
Taitosaki Lighthouse (Isumi City)
Situated on a cliff with a sweeping, east-facing view of the Pacific Ocean, Taitosaki Lighthouse is an ideal spot to see the first sunrise. It's said to be the second-earliest place to see the New Year's sunrise in the entire country, after Inubosaki in Choshi.
Location: 3508 Izumi, Misakicho, Isumi City

Access:【Train】50-minute walk from Taito Station on the JR Sotobo Line ※ Walking is recommended due to narrow, uphill roads and limited parking around the lighthouse.

Inquiries: Isumi City Fisheries, Commerce and Tourism Division TEL: 0470-62-1243
Umihotaru PA (Kisarazu City)
Why not enjoy the first sunrise of the year from Umihotaru Parking Area (PA), located at the center of the Tokyo Bay Aqualine, which connects Kisarazu and Kawasaki? Seeing the sunrise from the middle of Tokyo Bay is a special treat.
Location: Nakajima, Kisarazu City

Access: 【Car】Tokyo Bay Aqualine

Inquiries: Trans-Tokyo Bay Highway Corporation TEL: 0438-41-7401
Kujukutani Valley Observation Park (Kimitsu City)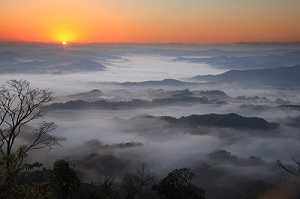 You can see the entire Boso Hill Range from Kujukutani Valley Observation Park. The view is especially gorgeous from dawn until right after the sun begins to appear, creating a picturesque view of a sea of clouds appearing right before your eyes.
Location: 119-1 Kanozan, Kimitsu City

Access: 【Car】From the Kimitsu Interchange, take Prefectural Road No. 92 towards Kamogawa by way of Higashiawagura for about 25 minutes

Inquiries: Kimitsu City Economic Promotion Division TEL: 0439-56-1325
2. Recommended Hatsumode (New Year's Shrine Visit) Spots in Chiba
After seeing the first sunrise of 2023 and eating traditional New Year's food, you'll want to wrap up your Japanese Oshogatsu experience with "hatsumode," the first shrine visit of the New Year. Here are some famous places to enjoy the festivities, as well as some new spots to explore.
Chiba Shrine (Chiba City)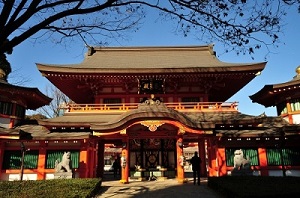 Chiba Shrine honors the North Star and the Big Dipper through Myoken-sama, god of the North Star who is thought to offer protection from bad luck and bodily harm. Approximately 700,000 visitors come to Chiba Shrine during the first three days of the New Year.
Location: 1-16-1 Innai, Chuo-ku, Chiba City

Access: 【Train】10-minute walk from Chiba Station on the JR Sobu Line or Keisei Line

Inquiries: Chiba Shrine TEL: 043-224-2211
Hokekyoji Temple (Ichikawa City)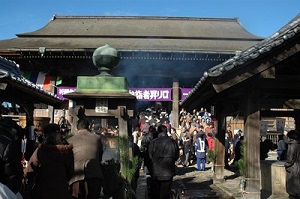 There are various important cultural assets within this temple of the Nichiren School of Buddhism, built during the Kamakura Period (1185-1333 CE). Large crowds are expected on New Year's Eve, as members of the public will be allowed to ring the temple bell in the bell tower (estimated early arrivals: about 1,000 people).
Location: 2-10-1 Nakayama, Ichikawa City

Access: 【Train】10-minute walk from Shimosa-Nakayama Station on the JR Sobu Line or a 5-minute walk from Keisei Nakayama Station on the Keisei Line

Inquiries: Hokekyoji Temple TEL: 047-334-3433
Naritasan Shinshoji Temple (Narita City)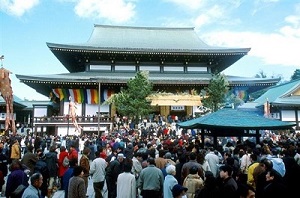 Nationally renowned as "Narita's Fudo" in honor of the Buddhist deity enshrined there named Fudo Myo-o, approximately 3,000,000 visitors come here to pray during the first three days of the New Year. This makes it one of the most-visited temples in the nation for hatsumode.
The temple grounds also house the 165,000-square-meter Naritasan Park, a beautiful place where you can enjoy the beauty of all four seasons throughout the year.
Location: 1 Narita, Narita City

Access: 【Train】15-minute walk from Narita Station on the JR Narita Line or Keisei Narita Station on the Keisei Line

Inquiries: Naritasan Shinshoji Temple TEL: 0476-22-2111
Katori Jingu Shrine (Katori City)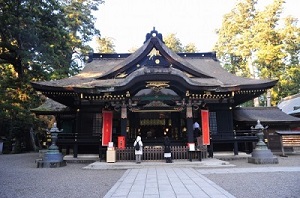 Futsunushi-no-Okami, a deity who appears in many famous Japanese myths, is enshrined at Katori Jingu Shrine. The shrine is famous for being the "ichinomiya," or the highest-ranking shrine, of the former Shimosa Province, and also for being a "jingu," a shrine connected to the Imperial House of Japan. In addition, this shrine possesses a national treasure known as the Kaiju Budo Kyo (Sea Beast Glazed Mirror) and many other important cultural properties.
Location: 1697-1 Katori, Katori City

Access: 【Train】30-minute walk or 10-minute taxi ride from Sawara Station on the JR Narita Line

Inquiries: Katori Jingu Shrine TEL: 0478-57-3211
Daihonzan Tanjoji Temple (Kamogawa City)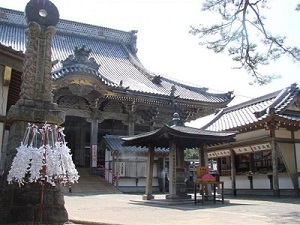 This temple was built to commemorate the birthplace of Nichiren, a renowned Japanese Buddhist priest who lived from 1222 to 1282 CE. Tanjoji is the "daihonzan," or main temple, of the Nichiren School of Buddhism which follows his teachings. There is also a statue of Nichiren on the temple grounds.
On New Year's Eve, numbered tickets will be distributed to allow visitors to ring the temple bell in order to welcome the New Year.
Kiyomizu Temple (Isumi City)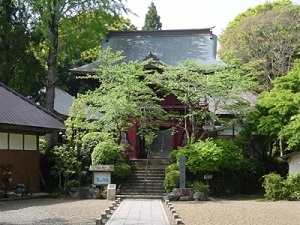 Kiyomizu Temple is a temple of the Tendai School of Buddhism that was founded in 807 CE by Jikaku Daishi Ennin, a well-known priest who lived from 793 to 864 CE.
The temple is famous for its eleven-faced Kannon statue, designated as a cultural property by Chiba Prefecture. The temple and surrounding forest offer visitors beautiful nature views and are registered as local environmental conservation areas by the prefecture.
On New Year's Eve, visitors can ring the temple bell on a first-come, first-serve basis starting around 11:35 pm.
Nihonji Temple (Kyonan Town)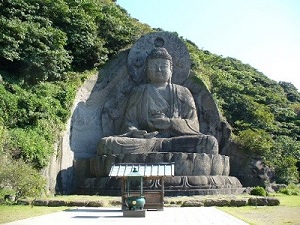 Founded in the year 725 CE by the then-reigning Emperor Shomu, this temple is located on Mt. Nokogiri (Nokogiriyama) and boasts a 31-meter-tall Daibutsu Buddha statue along with several smaller Buddhas carved into the rocks nearby.
Location: 169 Motona, Kyonan Town

Admission: Adults 700yen, Children 400yen

Access: 【Train】Walk 8 minutes to the Nokogiriyama Ropeway entrance from Hamakanaya Station on the JR Uchibo Line, ride the ropeway to the top, and walk 10 minutes

Inquiries:Nihonji Temple TEL: 0470-55-1103
Kanozan Jinyaji Temple (Kimitsu City)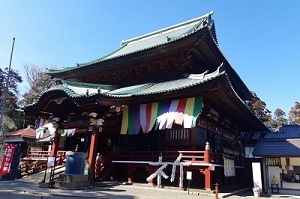 Located at the top of Mt. Kano (Kanozan), a mountain known for its religious faith and legends, this temple boasts spacious grounds of a grand scale. According to temple legend, the temple itself was founded by Prince Shotoku (574-622 CE) and is the oldest in the Kanto region. It is also said that the powerful warlords Ashikaga Yoshimitsu (1358-1408 CE) and Uesugi Kenshin (1530-1578 CE) as well as many others had deep faith in this temple as the long-standing clan temple of the three Boso provinces.
Starting at 11:00 pm on Saturday, December 31st, the first 108 people to receive numbered tickets (1000 yen each) will be able to ring the temple bell on New Year's Eve.