Exchanges with Düsseldorf in 2011
September, 2012
International Affairs Division
Telephone: 043-223-2394
Exchanges Achievements in 2011
Although some programs were cancelled after the Great East Japan Earthquake on March 11, Chiba Prefecture successfully conducted the following activities and continued the partnership with the City of Düsseldorf:
Chiba Jazz Musicians Perform in Düsseldorf (May 14)
"Yasuto Ohara Super Jazz Trio" performed at Tonhalle, a city concert hall in Düsseldorf, on May 14. The group led by Yasuto Ohara, designated as a Person of Cultural Merit by Chiba Prefecture in 2007, first performed in Düsseldorf during Japan Day 2010. After this performance, the concert hall offered the trio a chance to play at Tonhalle. The show was a great success, packed with an audience of about 2,000 people.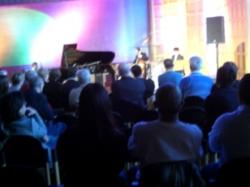 Super Jazz Trio's concert at Tonhalle
Exhibition of Chiba Ceramic Artist Held in Düsseldorf (May 14-29)
From May 14 to 29, the exhibition of Mr. Norio Kamiya, a Chiba ceramic artist and a preserver of intangible cultural asset designated by Chiba Prefecture, was held in EKŌ-Haus der Japanischen Kultur e.V. in Düsseldorf. About 30 ceramic works by Kamiya were displayed at the exhibition. There was also a talk show with Kamiya held on May 27. A tour to Germany, including a visit to the exhibition, was organized, and a group of 15 supporters visited Düsseldorf on this tour.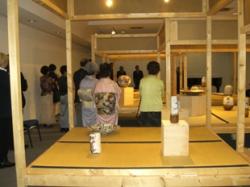 Exhibition displaying Kamiya's works
U-14 Tennis Team Visits Düsseldorf (May 18-25)
U-14 tennis team consisting of 4 junior high school students and 2 coaches from Chiba Prefecture visited Düsseldorf from May 18 to 25. During the stay, they participated in the International City Friendship Tennis Cup organized by the city, and won 2nd place. Youth from other countries that similarly promote exchanges with Düsseldorf also participated in this tournament, allowing the Chiba students to develop international friendships with children of the same age.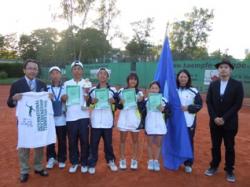 U-14 Tennis Team from Chiba with Mr. Koinuma, Consul General of Japanese Consulate in Düsseldorf
Deputy Director of Kazusa DNA Research Institute Participates in Japan-Germany Economic Symposium (May 27)
Düsseldorf hosted the Japan-Germany Economic Symposium on May 27 to celebrate the 150th anniversary of the diplomatic relationship between Japan and Germany. About 300 people attended this event. Prof. Osamu Ohara, Deputy Director of the Kazusa DNA Research Institute in Chiba, participated in the symposium as a panelist, and made a presentation on the topic of "Integration of Microfluidics Technology with Advanced Genomics for Prognosis/Diagnosis of Allergic and Immunological Diseases."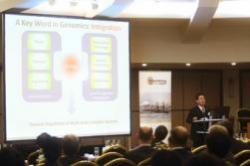 Prof. Ohara making presentation
Commemorative Lecture Meeting Held at Chiba University (Jun. 20)
Japanisch-Deutsche Gesellschaft der Präfektur Chiba and the Center for Language Education (CLE) at Chiba University co-hosted a lecture meeting on June 20 to celebrate the 150th anniversary of the diplomatic relationship between Japan and Germany. About 250 people came for the event. Through the lecture, CLE's Assistant Professor Tomoaki Seino introduced efficient ways to master foreign languages, taking the case of learning German as an example. The symposium also welcomed Vice President Marc-Oliver Nandy of Mercedes-Benz Japan, who made a presentation on the company's technology innovation for the past 125 years.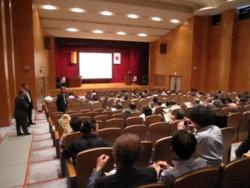 People gathering for the lecture
U-15 Girls' Soccer Team Visits Düsseldorf (Jul. 23-Aug. 1)
U-15 girls' soccer team consisting of 15 junior high school students and 5 coaches from Chiba visited Düsseldorf from July 23 through August 1. They joined the local team for trainings and friendly matches, and enjoyed exchanging friendships. Thanks to the Japan Women's National Soccer Team, who won the World Cup right before their visit, the young delegation received a lot of public attention during their stay.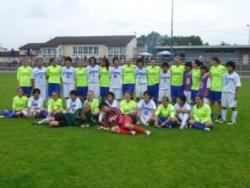 U-15 soccer team from Chiba with
the German team
Lord Mayor of Düsseldorf Visits Chiba Prefecture (Sep. 7)
The Lord Mayor Dirk Elbers of the City of Düsseldorf visited Chiba Prefecture on September 7. This was his first visit since taking office in September 2008. During his stay, he met with Governor Morita and Vice-Governor Sakamoto, and visited Makuhari Messe, Nippon Steel Corporation Kimitsu Works, and other organizations strongly related to Düsseldorf. Governor Morita and Mayor Elbers discussed the achievements Chiba Prefecture and Düsseldorf had made through their exchanges, and the possibilities of further developing them in the future.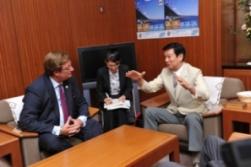 Meeting between Lord Mayor Elbers and
Governor Morita
Governor Morita Attends "Düsseldorf Evening" (Sep. 8)
On September 8, the City of Düsseldorf held the economic exchange reception, "Düsseldorf Evening," in Tokyo. Held about once every 3 years, the event hosts people who have contributed to the exchanges with Düsseldorf, including the officers who have worked at Japanese companies located in the city.
Governor Morita attended the reception for the first time. In his opening address, the Governor promoted the balanced industries and rich nature of Chiba Prefecture. This also became a good opportunity for Chiba Prefecture to introduce its strong partnership with the City of Düsseldorf to the approximately 1,100 guests in attendance.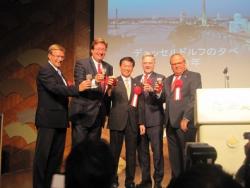 Opening at "Düsseldorf Evening"
Chiba Prefecture Participates in Japan Day (Oct. 15)
"Japan Day," an event introducing Japan, was held in Düsseldorf on October 15. Over 700,000 people came out for this event. Although Japan Day in usually held in May, this year it was postponed until October due to the Great East Japan Earthquake.
Chiba Prefecture has participated in Japan Day since 2005. As in previous years, the prefecture worked together with private exchange organizations to introduce Chiba as well as the prefecture's exchanges with the city of Düsseldorf.
The booth was busy with visitors all day and the readied promotional goods were completely distributed out, proving the tent's popularity.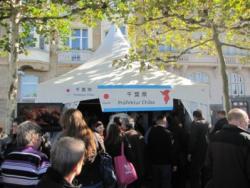 Chiba Prefecture PR tent bustling with visitors
Chiba Companies Participate in MEDICA 2011 (Nov. 16-19)
MEDICA 2011, the world's largest medical fair, was held in the Messe Düsseldorf from November 16-19. The Chiba Industry Advancement Center and 6 companies in Chiba Prefecture participated in the event as exhibitors.
At the fair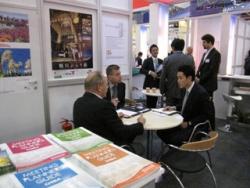 Participants discussing business
Chiba Girls' High School Orchestra Club Visits Governor (Feb 1)
The members of Chiba Girls' High School Orchestra Club will be visiting Düsseldorf on March 29 to foster friendships with the local people through music.
Prior to their departure, they visited Governor Morita at the Chiba Prefectural Government Offices on February 1. Following speeches by Governor Morita and a student representative from the orchestra, the student performed pieces that they will be playing in Germany. Afterwards, the students had photographs taken with the Governor to commemorate their visit.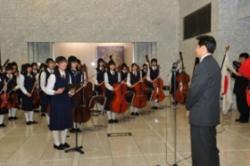 Student Representative greeting
Governor Morita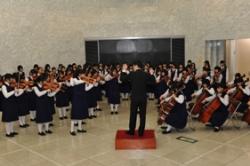 Performance by the students