Description of Chiba Prefecture
Location
Chiba Prefecture is crisscrossed by rivers, surrounded by the sea and blessed with rich natural resources, including the water and forests. It is located on the eastern side of the Tokyo metropolitan area, and occupies a peninsula that juts out into the Pacific Ocean. The southeastern part of the peninsula faces the Pacific Ocean, while the western side faces Tokyo Bay. Chiba Prefecture adjoins the Tokyo Metropolis and Saitama Prefecture to the northwest, and Ibaraki Prefecture to the north.
Land area and topography
Chiba Prefecture has a land area of 5,156.62 km2, making it the 28th largest prefecture in the country. It is larger than the total area of the Tokyo Metropolis and Kanagawa Prefecture combined (data as of October 1, 2013).
Topographically, Chiba is made up of the Boso Hills, a chain of hills 200 to 300 m in height, and the relatively flat Shimousa plateau, Tone River basin, and plains along the Kujukuri coast.
Chiba's coastline extends 534.4 km (as of March 31, 2012), and offers highly varied scenery.
Climate
Chiba Prefecture has a warm oceanic climate that is mild in winter and relatively cool in summer, as it is surrounded on three sides by the sea. The southern Boso coast in particular has warm weather affected by an offshore warm current called the Kuroshio. Accordingly, frost is rarely observed in winter.
Precipitation is high in summer, and low in winter.
Population
The population of Chiba Prefecture is the 6th largest of all prefectures in the country.
Population: 6,216,289
Number of households: 2,515,904
As of October 1, 2010; according to the National Census, 2010

Change in population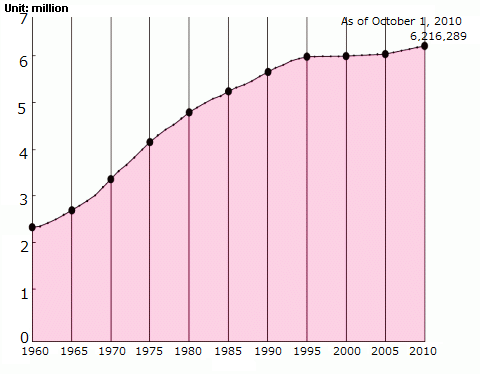 Source: National Census