Lot Listing - Futtsu - Lot Outline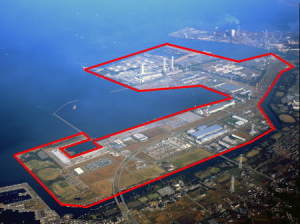 Outline of Futtsu District Industrial Land
Futtsu District Industrial Land lies about 12 km south of the Tokyo Wan Aqualine (Trans-Tokyo Bay Highway) and within 50 km of central Tokyo.
Access to central Tokyo and western Japan has dramatically improved since opening of Tokyo Wan Aqualine which cut the driving time to about one hour, and 70 minutes to the Yokohama-Machida Interchange of the Tomei Expressway.
The site is not only equipped with a public port facility capable of handling cargo ships up to 5,000 tons , but also offers a supply of industrial water.
Please contact us for more information.
Location

Shintomi, Futtsu-shi (reclaimed land)

Industrial park area

Total area approx. 663 ha
Industrial plot area approx. 380 ha

Area Classification

Port-Zones

Building coverage 60%
Floor area ratio 200%

Transportation

Approx. 6 km from Kisarazu-Minami IC on the Higashi-Kanto Expressway Tateyama Line

Approx. 1 km from R16

Approx. 2 km from Aohori Stn. on the JR Uchibo Line

Water supply

Industrial water 1,224t/day
Waterworks 3,490t/day

Drainage

Discharge into the public sewage disposal system after treatment to the specified waste water standard by each property owner.

Electricity

Normal high voltage 6 kV
Special high voltage 66 kV

(laying of new service wires required)

Area designation

Land for industrial use based on the "Industrial Location Law"

Port facilities

Pier area 7.7 ha
Public berths -5.5m 360m -7.5m 260m

Preferential measures

Eligible for low-interest loans from the Electric Power Development Financing System
(Japan Finance Corporation for Small Business)
(Development Bank of Japan )

Subsidies and loans (Prefecture)


Designated Factory Land (National Tax)


Prefecture Development & Area
(National & Prefectual Taxes)

Insentives
(Municipal)

Type of business

Manufacturing industry
Distributing industry
Question and request about this site
Land Sales Division
Public Enterprises Agency, Chiba Prefectural Government
D-4 Makuhari Techno Garden
1-3nakase, mihama-ku, Chiba, Japan 261-8552
【in Japan】 TEL 043-296-8759 FAX 043-296-6459
【from overseas】 TEL +81-43-296-8758 FAX +81-43-296-6459