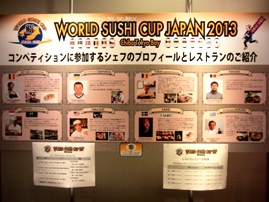 Chefs competing in World Sushi Cup Japan 2013
This unique event was held in conjunction with FOODEX Japan 2013, the largest food and beverage exhibition in Asia, from March 6-8, 2013. Top class sushi chefs from both Japan and abroad gathered in Makuhari, Chiba City to participate in this competition. World Sushi Cup Japan 2013 comprised of two events: the individual competition on March 6, and the restaurant competition on March 7-8.
The Nanohana News staff attended the Original Sushi Restaurant Competition. Top sushi restaurants from Belgium, Ukraine, Romania, Moldova, Singapore, the U.S., Sweden, and Uruguay selected by the All Japan Sushi Association (AJSA) competed on sushi cooking techniques, creativity, and flavor at this event. Each of the chefs from these restaurants have outstanding careers, such as possessing a Michelin-star rating or having won famous sushi competitions abroad.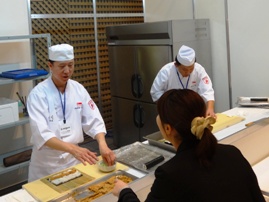 Observer asks the representative from Singapore about the sushi making process
The restaurant competition was held over 2 days, with 2 rounds each day. Participants compete by creating 4 original sushi (one for each round) using fresh Japanese ingredients provided by the organizer. In addition, they were also allowed to use their own ingredients. During each round, the participants were required to prepare 200 pieces of sushi in 60 minutes.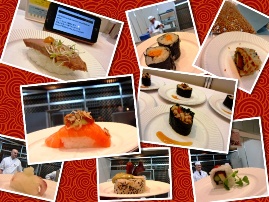 Sushi made eight different restaurants were chosen to participate in the restaurant competition
During the session that the Nanohana News staff attended, one competitor brought out the flavors of red sea bream fish from Chiba by smoking it, while another competitor went for a Western take on sushi by topping it with avocado and cream sauces. Many of the participants chose to combine Chiba's ingredients with flavors from their home countries, such as the Ukrainian restaurant which accented their sushi with soba (buckwheat) seeds from Ukraine to symbolize the friendship between Japan and Ukraine.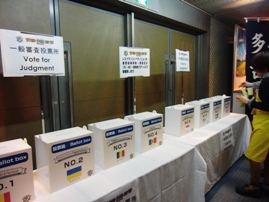 Boxes for attendees to place their votes for the best sushi
After tasting all of the sushi for that session, attendees were given 3 slips of paper – one for each of the following qualities: deliciousness, appearance/cooking technique, and originality. It was certainly difficult to decide which sushi was the "best." The winner was chosen by a panel of judges and the votes of attendees.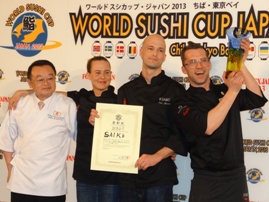 Winner of the World Sushi Cup Japan 2013!
On March 8, the final day of the event, the restaurant "SAIKO" from Sweden was chosen as winner of the Most Outstanding Sushi Restaurant Award! The concept for their sushi was a combination of Japanese and European cooking techniques with Scandinavian ingredients, and it certainly paid off!
Congratulations to all participants of the first ever World Sushi Cup Japan – we hope that this event is held next year as well, as there aren't too many places you can enjoy sushi from all over the world made by top class chefs!