Update:September 10, 2018
Chiba Nanohana News (October 2015)
Index
 I.News   II. Festivals and Events    III.Exhibitions, Concerts, etc.
I. News
1) New Roadside Station Kirari Asahi Opens in Asahi City (Asahi City)
On Saturday, October 17, a new roadside station, or michi-no-eki, will open along the Asahi Central Hospital access road near route 126 in Asahi City. Named "Kirari Asahi," it will be the 25th roadside station to open in Chiba Prefecture. Under the slogan, "Home of Food Asahi City Roadside Station: Energize Asahi with locally-grown food," Kirari Asahi will offer direct sales of fresh vegetables, flowers, and animal and seafood products, as well as an all-natural buffet-style restaurant that uses plenty of Asahi-grown food. Visitors can also enjoy the locally-popular Italian gelato and freshly-baked bread. This new roadside station is a great place to enjoy a taste of Asahi.
Date: opens on Saturday, October 17
Place: I-no-5238, Asahi City
Access: about 25min walk from Asahi Station or Iioka Station (contact below for more information)
Inquiries: Asahi City Planning and Policy Division (0479-62-5382)
2) CHI-BA+KUN and Local Mascots Decorate Trains on the JR Kururi Line

The Kururi Line, operated by Japan Railways, runs through the cities of Kisarazu, Sodegaura, and Kimitsu. It operates between Kisarazu Station, which connects to the Uchibo Line, and Kazusa-Kameyama Station in Kimitsu City. Originally the line was intended to extend across the Boso Peninsula, but the plan was abandoned due to World War II. Now the line serves as one of the quaint railways that cross the Chiba countryside.
Four trains on the Kururi Line will feature local mascot characters like CHI-BA+KUN, Kimipyon (Kimitsu City), Kisapon (Kisarazu City), and Gaura (Sodegaura City) enjoying autumn. Visitors can ride these special wrapped trains until Sunday, December 20.
Date: Saturday, September 19—Sunday, December 20
Place: between Kisarazu Station (JR Uchibo Line) and Kazusa-Kameyama Station (JR Kururi Line)
Inquiries: Chiba Prefecture Press and Public Relations Division (043-223-2242)
Back to top   I.News   II.festivals and Events   III.Exhibitions, Concerts, etc.
II. Festivals and Events
1) Shimosa Miyama Seven-Year Festival/Ninomiya Shrine, etc. (Funabashi City)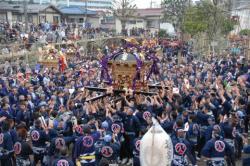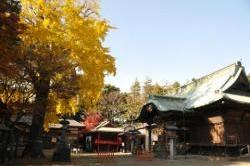 The Shimosa Miyama Seven-Year Festival takes place mainly at Ninomiya Shrine in the Miyama area of Funabashi, but there are also events at nine shrines in four cities in the Shimosa region: Funabashi, Chiba City, Narashino, and Yachiyo. This festival occurs on the ox and goat (also known as sheep or ram) years of the Chinese zodiac, which are six years apart, but using the old system of counting that starts from one, not zero, means that the festival occurs every seven years, giving it the name Seven-Year Festival.
Each of the participating shrines has a role associated with the family unit and childbirth:
Ninomiya Shrine (Miyama, Funabashi City): Father/Husband
Koyasu Shrine (Hatamachi, Hanamigawa-ku, Chiba City): Mother/Wife
Komamori Shrine (Makuharicho, Hanamigawa-ku, Chiba City): Nanny
Sandaio Shrine (Takeishicho, Hanamigawa-ku, Chiba City): Midwife
Kikuta Shrine (Tsudanuma, Narashino City): Uncle
Ohara Omiya Shrine (Mimomi, Narashino City): Aunt
Tokihira Shrine (Kayadamachi & Owada, Yachiyo City): Oldest Son/Brother
Takatsuhime Shrine (Takatsu, Yachiyo City): Sister/Daughter
Hachioji Shrine (Kowagamacho, Funabashi City): Youngest Son/Brother
This year, the main festival will take place across three days, from Saturday, October 31 to Monday, November 2. The purification ceremony is on October 31, the prayer for safe childbirth is on November 1, and the seashore ceremony is on November 2.
Date: Saturday, October 31—Monday, November 2
Place: Ninomiya Shrine, 5-20-1 Miyama, Funabashi City and other shrines
Access: From JR Tsudanuma Station, take the bus bound for Ninomiya Shrine ("Ninomiya-jinja") and get off at the last stop.
*Some streets will be closed off due to the festival.
Inquiries: Funabashi City Board of Education Culture Division (047-436-2898)
2) 34th Nanso Satomi Festival/Hojo Beach (Tateyama City)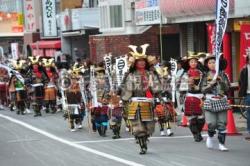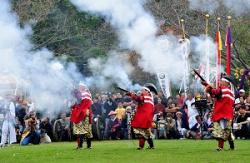 This year marks the 34th Nanso Satomi Festival, Tateyama's annual fall event. There will be a procession of floats and mikoshi from 25 districts around the city and about 200 hakkenshi warriors and soldiers dressed in handmade armor from the waterfront to the west exit of Tateyama Station. Following the procession are battle performances at the Hojo Beach special stage. There will be martial art demonstrations by hakkenshi warriors, realistic enactments of battle scenes, and matchlock gun demonstrations.
Date: Saturday, October 17, 10:00-20:00
Place: Tateyama Station West Exit and Hojo Beach areas, Tateyama City
Access: Get off at Tateyama Station (JR Uchibo Line)
Inquiries: Nanso Satomi Festival Planning Committee (Tateyama Tourism Association) (0470-22-2000)
3) Amateur Sumo Wrestling at Funabashi Shrine (Funabashi City)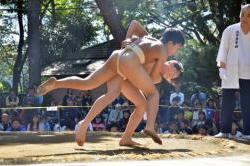 The annual sumo match offering will take place on Tuesday, October 20 at Oohi Shrine (Oohi-jinja), also known as Funabashi Shrine (Funabashi-daijingu). It is said that this tradition began in 1590, when Ieyasu Tokugawa visited the area, and to welcome him, local fishermen's children were gathered to participate in a sumo tournament. Afterwards adults joined as well, and the practice continues to this day.
The event is also known as "Funabashi Fighting Sumo" because of the excitement it has given onlookers since the Edo Period. To this day it is one of the most prominent amateur sumo tournaments in the Kanto region. Visitors are invited to watch the powerful performances from right outside the ring, and enjoy standard festival stalls in between matches.
Date: Sunday, October 18 at 8:30 am (children's sumo); Tuesday, October 20 at 11 am (adult sumo)
Place: Oohi Shrine (Funabashi Shrine), 5-2-1Miyamoto, Funabashi City
Access: 3 min walk from Daijingushita Station (Keisei Railway), 13 min walk from Funabashi Station (JR and Tobu-Noda Lines)
Fee: Free
Inquiries: Funabashi City Hall Press Division, Funabashi Promotion Section (047-436-2792)
E-mail: miryoku@city.funabashi.lg.jp
4) Sawara Grand Autumn Festival/Sawara-Shinjuku District (Katori City)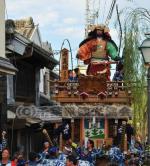 The "Sawara Grand Festival," which is held both in the summer and the fall, was designated as a National Important Intangible Folk Cultural Asset in February 2004. It is famous for being one of the Kanto region's three biggest dashi float festivals, and boasts over 300 years of tradition.
The magnificent dashi floats are decorated with exquisite Kanto-style carvings. Some dashi floats also carry enormous figures up to 4 meters tall that were created by famous doll makers during the Edo and Meiji Periods.
Slip back in time and immerse yourself in a scene from the Edo Period. Listen to the sounds of the "Sawara-bayashi," one of Japan's three great styles of festival music. Watch the dashi floats brush against the eaves of buildings and glide through the town, called "Little Edo," an area which has been nationally designated as an Important Preservation District for Groups of Traditional Buildings.
Date: Friday, October 9 – Sunday, October 11, 10:00-22:00
Place: Sawara-Shinjuku district, Sawara, Katori City
Access: Sawara Station (JR Narita Line)
Inquiries: Katori City Commerce & Tourism Division (0478-54-1111)
5) Chiba Sake Festa 2015/Tokyo Bay Makuhari Hall (APA Hotel & Resort) (Chiba City)
Approximately 20 sake breweries from all around Chiba Prefecture will gather here for this annual grand sake tasting event organized by the Chiba Prefecture Sake Brewery Union. Visitors can enjoy over 150 different kinds of Chiba's finest sake. Enjoy new twists on classic flavors at the Japanese sake cocktail corner and booths selling unique snacks from around the prefecture.
Date: Friday, October 9, 17:30-20:30
Place: Tokyo Bay Makuhari Hall (APA Hotel & Resort), 2-3 Hibino, Mihama-ku, Chiba City
Admission: 2,500 yen (tickets can be purchased online through e+plus)
*Please purchase tickets in advance through e+plus (http://eplus.jp). Tickets purchased through e+plus will be mailed or issued at a convenience store.
*Each ticket comes with 1,200 yen worth of coupons that can be used to buy sake and snacks at the event. Guests will also receive a mini sake cup.
*Visitors who fill out a survey will receive a free 300ml bottle of sake.
Capacity: 700 people (adults 20 years and older; minors are not permitted)
Access: 5 minute walk from Kaihimmakuhari Station (JR Keiyo Line)
Inquiries: Chiba Prefecture Sake Brewery Union (043-222-0686)
6) Sotobo Beach Sports Festa at Ohara Beach 2015 (Isumi City)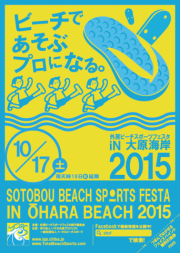 The heat of the summer has died down, so now is a great time to take advantage of the cooler weather to play all kinds of beach sports at Ohara Beach in Isumi City. The event's slogan, "Become a pro at playing on the beach," encourages everyone to bring their families and friends to get active and get to know top athletes and other members of the community. Some of the sports featured are beach volleyball, beach tennis, beach lacrosse, beach soccer, beach baseball, and beach yoga. Other attractions include a beach sandal toss, aquarium, face painting, treasure hunt, beach race for kids, beach relay race, water balloon tag, and more. It's also a great opportunity to teach responsibility and caring for the environment: the first hour and last half hour of the event will feature a beach cleaning.
Date: Saturday, October 17, 9:00-16:30 (postponed to Sunday, October 18 in the event of rain)
Place: Ohara Beach, Isumi City
Access: about 15 min walk from Ohara Station (JR Sotobo Line)
Fee: 1,000 yen for high school students and older; free for junior high school students and younger
*Refreshments and attractions cost extra.
Beach Cleaning: 9:00-10:00, 16:00-16:30
Inquiries: Sotobo Beach Sports Festa Planning Committee (e_info@igp.chiba.jp)
Back to top   I.News   II.festivals and Events   III.Exhibitions, Concerts, etc.
III. Exhibitions, Concerts, etc.
1) Japan Bird Festival 2015 (Abiko City)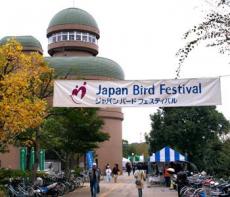 The Japan Bird Festival 2015 will be held at several venues in Abiko City: Lake Teganuma, which was once one of the main habitats in the Kanto area for protected species of waterfowl like the crested ibis and the oriental stork; the Abiko City Bird Museum located right next to Lake Teganuma; The Yamashina Institute for Ornithology, which has a long history as one of Japan's bird research centers; and Teganuma Aquatic Park.
This bird fair, the largest in Japan, will attract visitors with wide variety of artistic and cultural events such as bird-watching and bird-themed carvings, paintings, and photography. To celebrate the 15th anniversary of the festival, 7 countries and regions including Lithuania, Mongolia, and Taiwan will have booths at the event. In addition to the various lectures, photo displays, carvings, and bird-themed accessories and merchandise, there will also be a space to watch wild birds in real life, bird-watching by boat, and booths selling bird-watching goods like binoculars and camera equipment. Bird-lovers will not want to miss this event!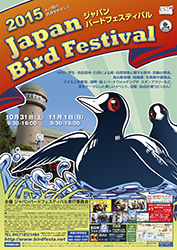 Date: Saturday, October 31, 9:30-16:00; Sunday, November 1, 9:30-15:00
Place: Teganuma Aquatic Park, Abista (Abiko City Lifelong Learning Center), Mizu-no-Yakata, Abiko City Bird Museum, and Yamashina Institute for Ornithology, Abiko City
Access: nearest station is JR Abiko Station south exit
A special loop bus will run during the festival for a one-day fee of 100 yen for adults, free for elementary students and younger (Abiko Station south exit, Bird Museum, Abisuta, Abiko Station south exit).
JBF Marine Shuttle Bus runs between Teganuma Park boat dock and Teganuma Aquatic Park Fishery Co-op Wharf for 200 yen for adults, 100 yen for elementary students and younger.
Inquiries: Japan Bird Festival Executive Committee (within the Lake Teganuma Section, Environment and Economy Department, Abiko City Hall)
TEL: 04-7185-1484
URL: http://www.birdfesta.net (Japanese)
2) 20th Anniversary Exhibit at the Sekiyado Castle Museum (Noda City)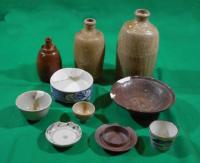 In celebration of the 20th anniversary of the opening of the Sekiyado Castle Museum, the museum is hosting an exhibit titled "The Spread of Pottery by Sea: Kanto from Modern History to the Present Day." The exhibit introduces pottery that came to the Kanto area over the sea from the West during the Edo period, traces the shipping routes it followed, and examines how it spread throughout the Kanto area. The exhibit will also touch upon the subsequent birth and spread of pottery such as kasama-yaki and mashiko-yaki.
Date: Tuesday, October 6—Sunday, November 29
Museum hours: 9:00-16:30 (last admission at 16:00, closed Mondays)
Admission: 300 yen; 150 yen for high school and university students; free for junior high school students and younger, 65 years and older
Place: Chiba Prefecture Sekiyado Castle Museum
Access: Take the Asahi bus from Kawama Station (Tobu Noda Line) bound for Sakai-machi and get off at the Sekiyadojo Hakubutsukan stop, or take the Asahi bus from Tobu Dobutsu Koen Station (Tobu Isezaki Line) bound for Sakai Shako and get off at the Shinmachi bus stop
Inquiries: Chiba Prefecture Sekiyado Castle Museum (04-7196-1400)
HOME   Back to top   I.News   II.festivals and Events   III.Exhibitions, Concerts, etc.