Chiba Nanohana News (February 2015)
Index
 I.News   II. Festivals and Events    III.Exhibitions, Concerts, etc.
I. News
1) "Taste of Chiba" Fair in Tokyo
 Chiba is proud of all the food products from local agricultural, fishery, and animal husbandry producers. Since December, these rich regional specialties have been featured on Gurunavi, a Japanese restaurant search engine. The website's online recipe collection, Chef Gohan, introduces simple recipes using the meat, fish, and produce that are in season from winter to spring. The special feature page will be up until the end of February.
 In addition to cooking with Chiba-grown food at home, you can taste it in Tokyo. For the month of February, five restaurants across Tokyo are participating in the "Taste of Chiba" fair. Visitors to these restaurants can enjoy Chiba-grown food in French, Italian, and Japanese cuisine styles. Enjoy this gourmet delight from Chiba!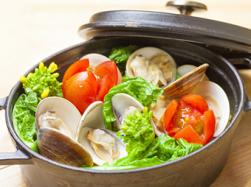 ◇Recipes on Chef Gohan
Available Tuesday, December 9, 2014—Saturday, February 28, 2015
◇Taste of Chiba in Tokyo
○Date: Thursday, February 5 – Thursday, February 26, 2015
| Restaurant | Genre | Place |
| --- | --- | --- |
| | French | Aoyama, Minato-ku, Tokyo |
| | Italian | Jiyugaoka, Meguro-ku, Tokyo |
| | Japanese | Ginza, Chuo-ku, Tokyo |
| | Italian | Nishi-Ebisu, Shibuya-ku, Tokyo |
| | Japanese | Tsukudo-cho, Shinjuku-ku, Tokyo |
◇Inquiries:
Chiba Prefectural Government, Distribution and Marketing Division
TEL: 043-223-2959 (Japanese only)
2) How to Avoid Getting the Flu: Watch this Video from the Ministry of Health, Labor and Welfare
While winter is a beautiful time of year, it is also the peak season for influenza. To combat the spread of infection, the Ministry of Health, Labor and Welfare has released an English language video called "Tips for Coping with Pandemic Influenza" that explains how influenza spreads and how to protect yourself from getting infected.
 The most common type of flu virus in Chiba Prefecture is type A, but this virus can mutate into a new type, called "novel influenza," which spreads quickly from person to person. The virus spreads in two ways. One way is when an infected person coughs or sneezes, and people nearby breathe in droplets that contain the virus. Sneezes and coughs can project up to 2 meters away. The other way is when an infected person touches an object that is then touched by another person. For example, if an infected person coughs and then touches a handrail on the train, the virus may be left on the handrail and spread to the next person to touch it. Telephones and doorknobs are also common culprits.
 Nobody wants to get the flu, so the video details a few ways to prevent infection:
Wash your hands frequently (especially after coughing or sneezing and before eating) for 30 seconds. Make sure to wash the front and back of each hand, around your nails, in between your fingers, and around your wrists.
Stay at home as much as possible and avoid crowds. If you must go out, wear a mask and avoid touching commonly-touched surfaces.
If you get the flu, wear a mask to prevent spreading the virus through coughing or sneezing. If you have to cough or sneeze and don't have a mask, do it into a tissue or sleeve (not your hands!) and face away from other people; throw away used tissues immediately and wash your hands thoroughly. Stay home, wash your hands frequently, and take care of yourself until you are well.
 By following these tips, you can prevent yourself from getting the flu and other infectious diseases. Share the video and stay healthy!
URL: https://www.youtube.com/watch?v=j9REAM329LI
3) Early Spring Tourism Campaign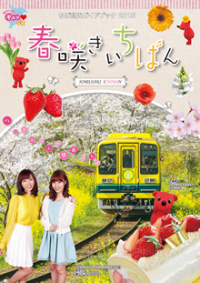 The Chiba Prefecture early spring tourism campaign "Gyutto❤ (Close❤Compact)" Charming Chiba, begins in January and will run until the end of March.
Spring arrives in Chiba earlier than in neighboring prefectures. Take advantage of this lovely time of the year by picking flowers, tasting fresh strawberries, relaxing in an onsen, and more.
<Around-the-Boso Coupon Booklet>
 To promote tourism and welcome visitors to Chiba, the prefecture is passing out pamphlets with "welcome tickets" that offer discounts at about 370 tourist facilities in Chiba. Participating locations have a flag outside with CHI-BA+KUN holding a bag and camera and labeled "Gurutto Boso Otoku Campaign" in Japanese. Pick up a pamphlet at the Umihotaru rest area on the Aqualine, roadside stations (michinoeki) throughout the prefecture, or the CHI-BA+KUN Plaza inside the Mitsui Outlet Shopping Mall in Kisarazu City.
Dates: Thursday, January 1—Sunday, May 31
<Campaign: Tell Us What You Love about Chiba>
 Submit pictures of your favorite tourist attractions, scenery, local food, or places to stay via e-mail or the application form on the official website. Participants will be entered into a monthly drawing to win travel coupons and other prizes.
Submission deadline:Tuesday, March 31, 2015
URL: http://love-love-chiba.jp/  (Japanese)
Campaign Dates: Thursday, January 1—Tuesday, March 31
Back to top   I.News   II.festivals and Events   III.Exhibitions, Concerts, etc.
II. Festivals and Events
1) Narita Plum Festival/Naritasan Park (Narita City)
 Spread out over a vast expanse of 165,000m2 behind the Great Main Hall of Narita Shinshoji Temple, Naritasan Park is blessed with a colorful atmosphere throughout the seasons with its scenery of plum blossoms, cherry blossoms, and maple trees.
 In the Japanese garden here, there are approximately 500 white and red plum trees with an average age of over 50 years old. Many of these plum trees have aged gracefully, and the sight of the trees' delicate blossoms delight temple visitors.
 On weekends during the Plum Festival, there will be musical performances and free amazake (sweet sake) to welcome visitors. There will also be a "plum viewing haiku contest" and the Omotesenke Narita City Tea Ceremony Association will also be holding tea ceremonies, making the festival an event where visitors can enjoy the many pleasures of spring in Japan.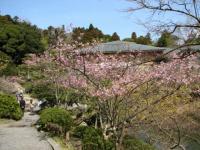 Date: Saturdays and Sundays from February 21—March 8, 10:00-15:00
Place: Naritasan Park, 1 Narita, Narita City
Access: 10 minutes on foot to Narita Shinshoji Temple from Narita Station (JR Narita Line or Keisei Line)
Inquiries: Narita City Tourism Association (0476-22-2102)
URL: http://www.nrtk.jp/
2) Katsuura Big Hina Doll Festival/Tomisaki Shrine (Katsuura City)
 Over 30,000 hina dolls will be displayed all around Katsuura City in celebration of the hina-matsuri, or Girl's Festival. Hina dolls will decorate the 60 stone stairs within the grounds of Tomisaki Shrine, and will be lit up in the evenings. This event first originated from efforts to hold the "Big Hina Doll Festival" (originally held in Katsuura Town in Tokushima Prefecture) in the eastern region of Japan as well. Chiba's Katsuura City has adopted 7,000 hina dolls from Katsuura Town in Tokushima.
There will be a hina doll parade featuring children in hina doll costumes, as well as a dance parade, and much more!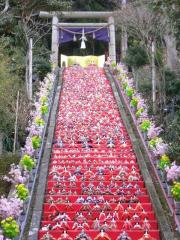 Display Locations:
◇Tomisaki Shrine
 1,200 hina dolls will line the shrine's 60 stone steps. Every day of the festival, volunteers will put the dolls out for display and then put them away at night. (Will be canceled in case of bad weather.)
◇Katsuura central shopping area
 Here in the central shopping area located next to Tomisaki Shrine, you can find special platforms displaying the dolls, unique displays at each of the stores, and doll decorating workshops in vacant store lots. There will also be special hina doll exhibits at the Kakuoji Temple gates and Tona intersection.
◇Other displays
 The largest kyoho-bina dolls in Japan will be displayed at the Katsuura Art and Culture Center Kuste (pronounced "kyuste"). The Emperor and Empress dolls measure 120 cm tall. At Matsunochosho Temple, there will be a lit-up display on Saturday, February 22 from 12:00-20:00 and Sunday, February 23 from 9:00-20:00.
Dolls will also be displayed at Okitsu Community Center, Ueno Assembly Hall, Fusano Assembly Hall, tourist facilities, financial institutions, and other locations.
Date: Friday, February 20 – Tuesday, March 3
Place: Tomisaki Shrine, 1 Hama-Katsuura, Katsuura City
Access: 10 minutes on foot from Katsuura Station (JR Sotobo Line)
Inquiries: Big Hina Doll Festival Planning Committee (Katsuura City Tourism and Commerce Division) (0470-73-6641)
URL: http://www.katsuura-sanpo.com/facilities/event/post-449/ (Japanese)
3) Handmade Bazaar and Farmer's Market/Kashiwa Shrine (Kashiwa City)
 In order to make Kashiwa a more exciting and fun town, the organization Street Breakers is holding a market to bring together people near Kashiwa who make things and those interested in buying handmade things. Once a month on sunny Sundays, handmade crafts, finished goods, and food products are sold alongside locally-grown produce at the Tezukuri Tenoichi market. Come browse the selection and see what unique items you can find!
Date: Sunday, February 22, 9:00-16:00 (cancelled in the case of inclement weather)
Place: Kashiwa Shrine, 3-2-2 Kashiwa, Kashiwa City
Access: 5 min from Kashiwa Station east exit (JR Joban Line or Tobu Urban Park Line (aka Tobu Noda Line)
Inquiries: Street Breakers Tezukuri Tenoichi Planning Office (080-7020-7120) (Mon-Fri except holidays, 10:00-17:00)
URL: http://www.streetbreakers.org/tenoichi (Japanese)
4) 50th Chiba International Cross Country/Showa-no-Mori Park (Chiba City)
 This international cross country event, held once a year and now celebrating its 50th anniversary, also serves as the qualifying meet to determine the athletes who will represent Japan in the Asian and World Student Cross Country Championships.
 Cross country is a challenging sport that requires athletes to run on a course with obstacles and varying elevations. Each year, elite athletes from all over the world, including ekiden (road relay), marathon, and track runners, come to compete in this exciting event.
Date: Sunday, February 8
Place: Showa-no-Mori Park, 22 Tokecho, Midori-ku, Chiba City
Access: 30 min on foot from the south exit of Toke Station (JR Sotobo Line)
       By bus: take the Chiba Chuo bus bound for Asumigaoka Brand New Mall, get off at "Showa-no-Mori Nishi," and walk 5 min
       *Free shuttle buses will also be available from the north exit of Toke Station
Inquiries: Chiba Track & Field Association (located in the Chiba Prefectural Sports Center) (043-252-7311)
5) 9th Kujukuri Iwashi Festival/Sunrise Kujukuri (Kujukuri Town)

 Since the 1500s, Kujukuri Town has had a thriving iwashi fishing industry. Iwashi is a general term for several different species of fish: the Japanese pilchard, the round herring, and the Japanese anchovy. The iwashi industry in Kujukuri is one of the most prosperous in Japan, and serves as a central pillar in the town's economy. Kujukuri has developed into an "iwashi town," and is celebrating "iwashi culture" with an iwashi festival!
 The "Hama Tairyo Iwashi Matsuri," coming into its 9th year, is a series of events that fish-lovers and Kujukuri-area residents won't want to miss. For dessert, there will also be strawberry-picking and direct-sale coupons courtesy of the Sammu City Naruto Tourism Strawberry Association.
<Kujukuri Market>
 Iwashi of all kinds—dipped in sesame, dried, flavored with mirin, and more. The first 300 people will get free mirin-flavored iwashi! Local Kujukuri moms will lead a class on how to cut and prepare iwashi. There will also be fresh vegetables and other souvenirs for sale. At 13:00, fresh iwashi will be cooked and fried in tempura for everyone to try for a super low price.
Date: Sunday, February 8; Sunday, March 8; 12:00-16:00
Place: by the Sunrise Kujukuri Rotary
Inquiries: Sunrise Kujukuri (0475-76-4151)
6) Poppy and Strawberry Bus through Tateyama (Tateyama City)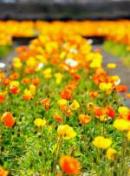 Tateyama is warm and pleasant even in the winter, but it can be difficult to get around without a car. Seasonal activities like flower-picking and strawberry-picking are particularly hard to get to because the fields and gardens are far from the few train stations available, and the trains aren't as frequent as up north. So to enjoy everything this time of year has to offer, a special tourism bus will take visitors to pick flowers and strawberries in Tateyama, with a break for lunch in between.
Date: Saturdays, Sundays, and holidays in February and March (rain or shine)
Time: Departs from Tateyama Station at 10:20, returns at 15:30
Course: Tateyama Station, Poppy-no-Sato Tateyama Family Park (flower-picking), lunch (sushi), Miyoshi-mura Hina-no-sato roadside station (edible flower-picking), Tateyama Strawberry-picking Center (strawberry-picking), Tateyama Station
Bonuses: Poppies (20 per person), edible flowers (1 bag per person; in the case of rain, flowers will be given to each person to take home), 30 min all-you-can-eat strawberries
Price: Bus only course: 5,800 yen for adults; 5,500 yen for elementary school students; 2,300 yen for children ages 3-5. Price includes entrance to Tateyama Family Park, Tateyama Strawberry-picking Center, lunch, and insurance fee. Lunch not included for children ages 3-5.
  *There are also tour packages that include jet boating and JR passes.
Back to top   I.News   II.festivals and Events   III.Exhibitions, Concerts, etc.
III. Exhibitions, Concerts, etc.
1) Make a magatama or a deer antler pendant/The Chiba Museum of Science and Industry (Ichikawa City)
 Visitors to the Chiba Museum of Science and Industry on Sunday, February 22 can make their own magatama by shaving down talc deer antlers. The magatama is a comma-shaped bead or jewel that dates back to prehistoric Japan. They first appeared in the Final Jomon Period (1000–300 BCE) as decorative jewelry and were made of earthenware or clay. By the Kofun Period (250 to 538 CE), they were only used for ceremonial or religious purposes and usually made of jade. The magatama has been an object of significance from Japan's earliest history; for example, magatama were among the objects used to lure Amaterasu from her cave, and the Yasakani no Magatama is one of the three Imperial Regalia of Japan. The magatama also appears in many anime and video games in popular culture.
 If you're looking for more of a challenge, you can instead make a deer antler pendant. It is a little more difficult than the magatama and is recommended for more experienced visitors. Either way, you'll leave with a one-of-a-kind accessory!
Date: Sunday, February 22 at 10:00 and 13:30
Fee: 350 yen (separate from admission)
Capacity: 30 people per session (school-age children and older only)
Sign-up: 20 min before the start of the session at the earliest, first-come first-served
・Place: Hands-On Learning Room (Taiken Gakushu-shitsu), Chiba Museum of Science and Industry, Onitaka 1-1-3, Ichikawa City
・Museum Hours: 9:00-16:30; closed Mondays (or the next day if Monday is a holiday)
・Admission: 300 yen; 150 for high school and college students; free for junior high students and younger, age 65 and older
・Access: 15 min on foot from Motoyawata Station on the JR Sobu Line, 5 min from Ichikawa IC on the Keiyo Road
・Inquiries: Chiba Museum of Science and Industry, (047-379-2005)
・URL: http://www.chiba-muse.or.jp/SCIENCE/ 
2) Experience the Heian Period at Chiba Prefectural Otone Museum (Katori City)
 The Heian Period, from 794 to 1185, marks the peak of Buddhism, classical Chinese influence, and the Japanese imperial court. Emperor Kammu moved the capital from Nara (where it was located during the Nara Period) to Kyoto, known at the time as Heian-kyo. The Heian Period saw famous figures such as the Fujiwara clan, which gained power by intermarrying with the imperial family, Sei Shonagon, who wrote the Pillow Book, and Murasaki Shikibu, who wrote The Tale of Genji.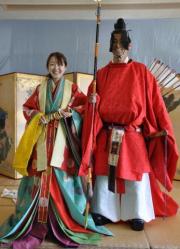 Travel back in time to the Heian Period and try on junihitoe, or "twelve-layered robe." This elaborate and complex garment could weigh up to 20 kg. Ladies of the Heian court used their sleeves and folding fan to cover their faces when speaking to male outsiders. Men can try on sokutai robes, complete with a hat called a kanmuri.
Reservations are required so history buffs should call in advance to make sure they don't miss this rare chance!
Date: Saturday, March 7 and Sunday, March 8
Times: Session 1: 10:00-12:00, Session 2: 13:30-16:00
Price: 500 yen per person
Place: Chiba Prefectural Otone Museum, 4500 Sawara-ha, Katori City
Museum Hours: 9:00-16:30 (closed Mondays, or the next day if Monday is a holiday)
Admission: 200 yen for adults; 100 yen for high school and college students; free for junior high school students and younger, age 65 and older
Access: From Sawara Station (JR Narita Line) take the Rosen bus bound for Ogishima/Itako Bus Garage ("Itako Shako") and get off at "Suisei Shokubutsu-en Iriguchi" and walk 600m.
Inquiries: Chiba Prefectural Otone Museum (0478-56-0101)
HOME   Back to top   I.News   II.festivals and Events   III.Exhibitions, Concerts, etc.