Update:September 10, 2018
Chiba Nanohana News (April 2018)
Index
 I.News   II. Festivals and Events    III.Exhibitions, Concerts, etc.
I. News
CHIBA AQUALINE MARATHON Now Accepting Entries
On Sunday, October 21, 2018, athletes can take part in a rare opportunity to race on the Tokyo Bay Aqua-Line, which connects the shores of Chiba and Kanagawa prefecture. A combined total of 17,000 competitors in full-marathon, half-marathon and wheelchair half-marathon will take part in the event.

Type of event / number of participants / time limit / entry fee
Full Marathon / 12,000 / 6 hours / JPY12,500
Half marathon / 5,000 / 3 hours 10 minutes / JPY9,500
Wheelchair half marathon / about 10 people / 1 hour 5 minutes / JPY9,500

For people with foreign nationality, it is possible to apply for special entry in the foreign runner category. Applications will be accepted from April 13 to May 8. Applicants applying with foreign nationality are encourage to apply as soon as possible due to limited space. Only 350 applicants will be accepted from this category!

For more details about how to apply, please see the official website at http://chiba-aqualine-marathon.com/2018/en/. You can also download the application guidelines in English at https://jtbsports.files.wordpress.com/2018/03/en.pdf.

Video introducing the Chiba Aqualine Marathon:
https://www.youtube.com/watch?v=jMMerViy2cs

Contact:
Chiba Aqualine Marathon Planning Committee Physical Education and Sports Division Educational Promotion Department Chiba Prefectural Board of Education
Tel: 043-223-4107
Email: aqua-run@pref.chiba.lg.jp

Recruiting 2018-2019 CHI-BA+KUN Ambassadors
The Chiba Prefectural Government International Affairs Division is currently looking for CHI-BA+KUN Ambassadors to help introduce and promote Chiba Prefecture through blogs, Facebook, websites, and other social media. CHI-BA+KUN Ambassadors participate in sponsored tours and proactively explore Chiba Prefecture, sharing their discoveries in their native languages.
Applications must be received by 5:00pm on May 1, 2018. For more details about this project, and to download the application form, please refer to the link below.
URL: https://www.pref.chiba.lg.jp/kokusai/english/information/residents/ambassadors.html
Back to top   I.News   II.festivals and Events   III.Exhibitions, Concerts, etc.
II. Festivals and Events
1) Sawara Samurai Doll Display/Merchant houses of Sawara (Katori City)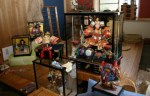 Sawara has retained its Edo Period atmosphere of being a mercantile city. You can visit Sawara's unique and traditional merchant houses that are a part of the "Sawara Neighborhood Museum" project, and see the treasures displayed within each house. As a part of this project, the "Sawara Samurai Doll Display" event will be held from April to May. Project members will be displaying samurai dolls (gogatsu ningyo) and other Boys' Festival decorations that have been passed down as family heirlooms from generation to generation. Nearby local facilities such as the Sawara Machinami Koryukan will also have samurai dolls on display, so you can take a leisurely stroll as you enjoy these beautifully unique dolls at various locations around town. Participating locations are marked with bright green cloth hanging out front.

Date: April 14 (SAT) -May 13 (SUN) (*Please note that hours of operation may vary from store to store.)
Place: Merchant houses of Sawara
Sawara, Katori City
Access: 10 minutes by foot from Sawara Station (JR Narita Line)
Inquiries: (080)5455-7577 (Sawara Landlady Association)
2) Mt. Kano Ladder Lion Dance/Kujukutani Valley Observation Park (Kimitsu City)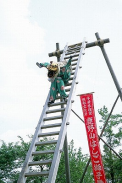 The Ladder Lion Dance has a long history. Jinyaji, the temple atop Mt. Kano in Kimitsu City, is said to have been founded in 598 by Prince Shotoku (Shotoku Taishi) to honor the eastern expedition of Prince Yamatotakeru (Yamato-takeru-no-mikoto). It burned down during the Meiou era (1492-1501) but it was rebuilt between 1504-1521 with the assistance of the Mt. Koya high priest Kouhan. He brought woodcutters from Mt. Koya, in Wakayama Prefecture, and they brought with them shishimai, the lion dance. This is said to be the beginnings of the "Ladder Lion Dance" performed in Kimitsu City today.
The ladder, said to resemble the cliffs of Mt. Koya, stands about 10 meters tall. On top of the ladder, two men form one lion and perform a lion dance to the music of ranbyoshi flutes and taiko drums. This rare lion dance is designated an Intangible Cultural Folk Property in Chiba Prefecture.

Date: Saturday, April 28 at 12:00
Place: Kujukutani Valley Observation Park, 119-1 Kanozan, Kimitsu City
Access: From Sanukimachi Station on the JR Uchibo Line, take the Amaha Nitto bus bound for "Jinyaji" and get off at the last stop. The park is a 15 minute walk from there.
Inquiries: Kimitsu City Tourism Department (0439-56-1325)

3) Koinobori Festival (Ichikawa City)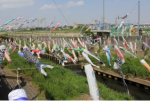 Take in the views of 500 colorful flying carp streamers for Children's Day at Ichikawa City. The decorative windsocks will be on display from Sunday, April 29 to Saturday, May 5. The main event will be held on Friday, May 4th with local performances and refreshment booths.

Date: 10:00 ~ 16:00 on Sunday, April 29 to Saturday, May 5
Place: Kokubugawa River and surrounding area/ 3 Chome, Kokubun, Ichikawa
Access:
From JR Sobu Line Ichikawa Stn. take the Kesei bus to Kokubun Soushajou, 3 minutes walking distance from the bus stop
From Kesei Sobu Line Ichikawa Mama Stn. take the Kesei bus to Kokubun Soushajou, 3 minutes walking distance from the bus stop
Inquiries: (090)572-3075 (Kokubun Koinobori Festival Planning Committee)

4) Narita Taiko Drum Festival (Narita City)

Wadaiko (Japanese drum) teams as well as traditional Japanese music and dance teams based in the Kanto Region will bring energy and excitement to Naritasan Shinshoji Temple and Naritasan Omotesando Street during this taiko festival.
The Narita Taiko Festival is regarded as one of Japan's greatest taiko festivals by taiko organizations, performers, and fans because of the number of performing groups, their high-quality performances, and the many unique styles that can be heard here. The festival draws over 200,000 visitors with the pairing of intense performances and the backdrop of Naritasan Shinshoji Temple's Main Gate, making it an event like no other.
At 10:00am on both Saturday the 14th and Sunday the 15th, all performing groups will gather in front of the Main Hall of Naritasan Shinshoji Temple for the "Sengan Hana Daiko." The simultaneous drum show will feature 1,080 performers in celebration of the temple's 1080-year anniversary this year. Make sure you get there early to find a good spot to watch from!
After the "Sengan Hana Daiko" performance on Saturday, the teams will spread out along Omotesando Street, which is connected to Shinshoji Temple, transforming the area into one expansive stage. At 17:00 on Saturday, April 14th, the Night Drum Concert will be held amongst blazing bonfires surrounding a special stage in front of the Naritasan Shinshoji Temple Main Hall. On Sunday from 15:00-17:00, the lively "Taiko Parade" will be held along the length of Omotesando Road connecting Naritasan Shinshoji Temple and JR/Keisei Narita Station.

Date: Saturday, April 14, 10:00-19:00
Sunday, April 15, 10:00-17:00
Place: Naritasan Shinshoji Temple & Naritasan Omotesando Street, Narita City
Access: By train: 10 minutes on foot to Naritasan Shinshoji Temple from Narita Station (JR Narita Line or Keisei Line)
By car: 10 minutes to central Narita from Narita IC (Higashi-Kanto Expressway) via Natl. Route 295, then Natl. Route 51 *Please note that some parking lots may be inaccessible because of traffic restrictions.
Inquiries: Narita Taiko Festival Planning Committee (0476-24-3232)
URL: http://nrtm.jp/


5) Dolphin watching/Choshi Ocean Research Center (Choshi City)

Up to 30km offshore, in the Oyashio and Kuroshio currents that flow past the Choshi peninsula, dolphins and whales swim almost all year round. Among the varieties often spotted are the short-beaked common dolphin, the bottlenose dolphin, the striped dolphin, the Pacific white-sided dolphin, the northern right whale dolphin, and Risso's dolphin. Sometimes dolphin watchers have seen pods of up to 5,000 dolphins.
Besides dolphins, you may also spot sunfish, sharks, flying fish, and albatrosses. Come out on a tour and enjoy the beauty of the waves and sky.

Season period: April—Thursday, May 31
Time: 3-4 hours
Boat departure times: Once a day from 10:30
Golden Week Holidays: Twice a day from 8:00 and 13:00
Admission: Adults (high school students and older) 6,500 yen; children (10 years and older) 5,000 yen, Children under 10 years of age not permitted to ride
Capacity: 30 people per boat (minimum of 10 people per boat), reservations needed
Meeting place: Choshi Ocean Research Center (Choshi Marina)
Meeting time: 30 min before departure
Facilities: Bathroom; handwashing station; a/c and heating
Place: 15-9 Shiomicho, Choshi City
Access: By bus via the Naarai/ Chiba Institute of Science Line (From Choshi Stn. Platform 5) Get off at the Chiba Institute of Science
Inquiries: Choshi Ocean Research Center (0479-24-8870)
6) Sakura Tulip Festival (Sakura City)

In the Edo Period, Sakura City flourished as a center of Dutch and Western studies. The Sakura Clan promoted the study of Western medicine and there came about a saying, "Nagasaki in the west, Sakura in the east." Even today, Dutch influence can be found in Sakura City as they celebrate events like the Tulip Festival.
This April, 670,000 tulips of 100 varieties will blossom in this picturesque plaza, which features a Dutch windmill in the background. Each year visitors come out to see the tulip field, which is one of the largest in the Kanto region. Enjoy the coming of spring with the natural beauty of Lake Imba combined with fully bloomed tulips that paint the field with vivid colors.
The festival includes tulips for sale (10 for 500 yen), rental of Dutch traditional costumes (1,000 yen for 45 min), yakatabune cruises of Lake Imba (1,000 yen for adults, 500 yen for children), Dutch street organ performances, rent-a-cycling (500 yen; 1,000 yen for an electric bicycle), and local product sales. The costume rentals, cruises, performances, and rent-a-cycling will mainly be held on weekends. There will also be a windmill festival featuring Dutch food, trying on wooden clogs, and a windmill photo exhibition on the weekend of the 14th and 15th.

Date: Wednesday, April 4—Wednesday, April 25, 9:00-16:00
Place: Sakura Furusato Hiroba, 2714 Usuita, Sakura City
Access: 10 min by shuttle bus or Sakura City loop bus from Keisei Sakura Station north exit
Inquiries: Sakura City Tourism Association (043-486-6000)
Back to top   I.News   II.festivals and Events   III.Exhibitions, Concerts, etc.
III. Exhibitions, Concerts, etc.
Spring Exhibition on Natural Disasters at the Natural History Museum and Institute in Chiba City
Awareness of natural disasters continues to rise amongst the general public. The spring exhibition seeks to teach visitors about the geographic formations and properties of the ground that can lead to natural disasters. Specifically, this exhibit will focus on the natural formations around Chiba Prefecture that can help us prepare for unexpected natural disasters.

Date: Now until Sunday, May 27th
Place: Natural History Museum and Institute, Chiba, 955-2 Aoba-cho, Chuo-ku, Chiba City
Museum Admission: 500 yen; 250 yen for high school and university students; FREE for junior high school students and under and seniors 65 and older
Museum Hours: 9:00-16:30 (last admission 16:00)
Closed: Mondays (or Tuesdays if a National Holiday falls on a Monday)
Access:
From Chiba Station east exit, take the bus from platform 7 bound for Chiba University Hospital ("daigaku byoin") or "Minami-yahagi," or take the bus from platform 6 bound for "Kawado-miyakoen." Ride for about 15 min and get off at the Natural History Museum and Institute ("Chuo hakubutsukan"). From there it is about 7 min walk to the museum.
From Soga Station east exit, take the bus from platform 2 bound for Chiba University Hospital ("Daigaku byoin"). Ride for about 5 min and get off at the Natural History Museum and Institute ("Chuo hakubutsukan") and walk for about 7 min to the museum.
The museum is about 15 min walk from Keisei Chiba-dera Station.
Inquiries: Natural History Museum and Institute, Chiba (043-265-3111)
Otaki Castle Cherry Blossom Festival (Otaki City)

The Otaki Cherry Blossom festival will be held Saturday, April 7th to Sunday, April 8th by the Otaki Tourism Association and local organizations. Enjoy the melodies of Japanese Koto while taking in the view of the castle and blossoming flowers.

Date: 4/7 (Sat) to 4/8 (Sun)
Museum hours: 9:00-16:30 (closed Mondays, or the next day if Monday is a holiday)
Place: Otaki Castle Museum, 481 Otaki, Otaki Town
Access: By bus: From Mobara Station (JR Sotobo Line), take the Kominato Bus bound for Otaki and get off at "Kubo" and walk for 20 min, or take the HMC Tokyo Bus bound for Otaki and get off at Otaki Station ("Otaki-eki") and walk for 15 min. By train, take the Isumi Railway to Otaki Station and walk for 15 min.
General admission: 200 yen; high school and university students: 100 yen; junior high school and younger, age 65 and older: free)
Inquiries: Otaki Castle Museum (0470-82-3007)
HOME  Back to top  I.News  II.festivals and Events III.Exhibitions, Concerts, etc.